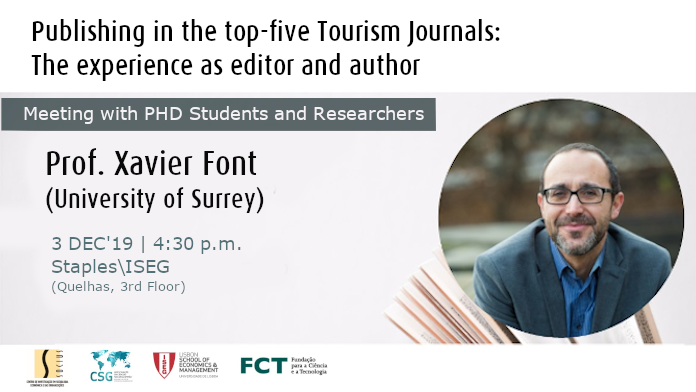 What differentiates Tourism Management, Annals of Tourism Research, the Journal of Travel Research, the Journal of Sustainable Tourism and Current Issues in Tourism, from other journals? How do you design, deliver and write for the journal that best suits your work? How do you avoid a desk rejection and how do you interpret and respond to reviewers' requirements?
In this lecture, Prof. Xavier Font, from University of Surrey, UK, will take you through the experience of publishing 30 articles in these five journals, and editing the Journal of Sustainable Tourism, to share practical tips to help you in your research and publication journey.
Moderation by Ana Rita Sampaio (PhD)
The event will take place at ISEG – Lisbon School of Economics and Management, on December 3rd, at 4:30 p.m. (classroom Staples, Quelhas, 3rd Floor).
Free entrance.