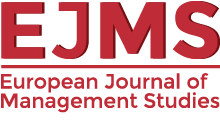 The European Journal of Management Studies (EJMS) has remodeled its Editorial Board.
At present, the board is composed by the Editors-in-chief Tiago Cardão-Pito (ISEG/ULisboa) and Gurpreet Dhillon of the University of North Carolina, and by the associated editors: Carlos Costa for the scientific area Management and Operation Information Systems; Eduarda Soares in Human Resources Management and Organizational Behavior; Mota de Castro will continue to support the Strategic Management and Marketing area; Raquel Gaspar in Finance; and, Sofia Lourenço in ​​Accounting, Auditing and Taxation.
EJMS has also been accepted in major scientific indexing services, such as Cabell's White List and Ebsco Information Services. Since the last issue, the papers individually hold a DOI identifier and are listed on Crossref.
The EJMS is an open access ISEG's publication whose mission is to disseminate innovative research in the area of ​​Management Studies, with open call for papers on a permanent basis.
Find out below how to submit.