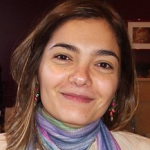 Marisa C. Gaspar graduated in Anthropology from the Lisbon University Institute (ISCTE-IUL). In 2009 she completed an MSc in Social Anthropology at the London School of Economics, UK. In the same year she has enrolled on ISCTE-IUL/CRIA Doctoral Programme in Anthropology, concluded in 2013 with the thesis: 'Macau Sá Filo: Memória, Identidade e Ambivalência na Comunidade Euroasiática Macaense' [Children of Macao: memory, identity and ambivalence in the Macanese Eurasian community]. In 2017 she joined SOCIUS/CSG – Research in Social Sciences and Management, Universidade de Lisboa (ISEG-ULisboa), where is working as a postdoctoral fellow in her newest research project: 'Comer e Poder: A Economia da Cultura em Macau' [Feasting and power: the economy of culture in Macao], funded by the Foundation for Science and Technology. She is an experienced fieldworker of the Macanese communities in Lisbon and Macao. Her current research interests are on identity ambivalence, social change, cultural heritage, culinary tourism, consumption, anthropology of economy and politics, institutional ethnography.
She is the author of several academic articles, and of the books:
'No Tempo do Bambu: Identidade e Ambivalência entre Macaenses'  (2015) [free ebook]; Heirs of the Bamboo: Identity and Ambivalence among the Eurasian Macanese (2020) in European Anthropology in Translation, Berghahn Books.
https://iseg.academia.edu/MarisaGaspar
mcgaspar@socius.iseg.ulisboa.pt