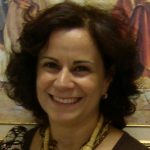 She is currently enrolled in a PhD in Development Studies at ISEG – Lisbon School of Economics and Management of Universidade de Lisboa, Portugal, doing research work on "Rural Communities in Small Islands: A Community Sustainable Development Model for Santo Antão, Cabo Verde". Master of Sciences in Environmental Management and Policies, University of Évora, Portugal (2009), Bachelor of Science diploma in Civil Engineering from Instituto Superior Técnico, Universidade de Lisboa, Portugal (1993). Throughout her professional career, she has worked as a Civil Engineer and later as Project Manager in Portugal and Cabo Verde. She has work experience as a higher education professor at Escola Superior de Tecnologia e Gestão do Instituto Politecnico de Beja, Portugal, from 2000 to 2001 and at the University of Cabo Verde from 2010 to 2011.
Co-author of several communications at national and international scientific conferences: International Conference IGU-CGoG 2019, Praia, Cabo Verde; 81st Annual Meeting of the Rural Sociological Society, 2018, Portland, USA; 5th International Climate Change Adaptation Conference: Adaptation Futures 2018 – Dialogues for Solutions, Cape Town, South Africa; ISISA-International Small Islands Studies Association, 2018, Leeuwarden and Terschelling, The Netherlands; 3rd CSG Research Forum, 2018, Lisbon, Portugal; ASEPELT 2017-XXXI International Conference of Applied Economics, Lisbon, Portugal; 2nd CSG Research Forum, 2017, Lisbon, Portugal.
Publications: Paulino, C. and Mendes, I. 2018. "Social Network Analysis as a Research Technique for the Study of a Community Sustainable Development Based Model: The Case of Santo Antão Island, Cabo Verde." In Conference Proceedings 3rd CSG Research Forum, ISBN: 978-989-96473-9-8, pp. 130-142.
cristina.paulino@phd.iseg.ulisboa.pt