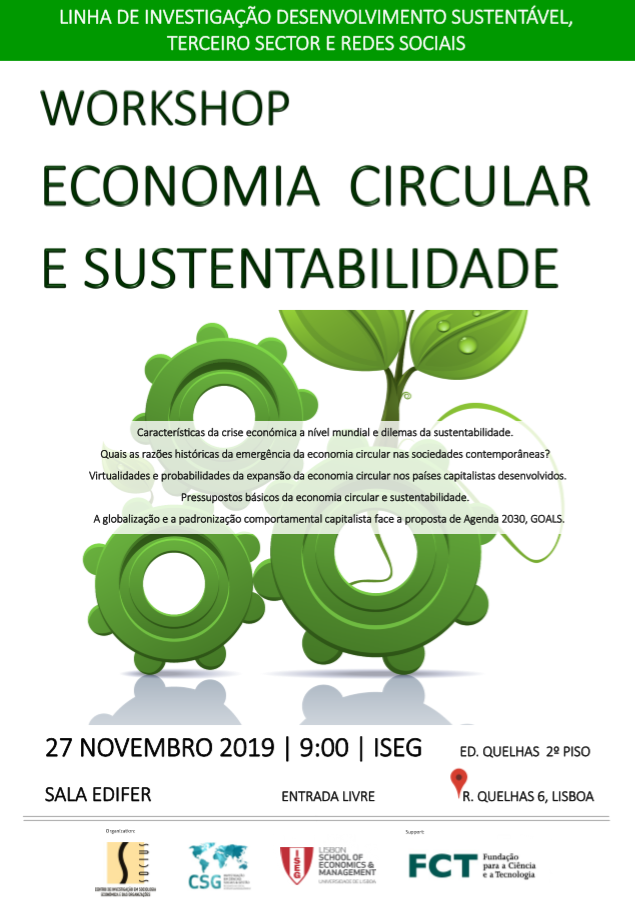 The Research Line "Social Sustainable Development, Third Sector and Social Networks" of SOCIUS – Research Center in Economic and Organizational Sociology of CSG – Research in Social Sciences and Management of ISEG – Lisbon School of Economics and Management of the Universidade de Lisboa, is organizing the Workshop "Circular Economy and Sustainability", with place at ISEG, on November 27, 2019.
Themes:
Characteristics of the global economic crisis and sustainability dilemmas.
What are the historical reasons for the emergence of the circular economy in contemporary societies?
Virtualities and probabilities of circular economy expansion in developed capitalist countries.
Basic assumptions of circular economy and sustainability.
Globalization and capitalist behavioral standardization in light of the proposal of the GOALS 2030 Agenda.
There will be a selection of the communications for a book publication, with ISBN.