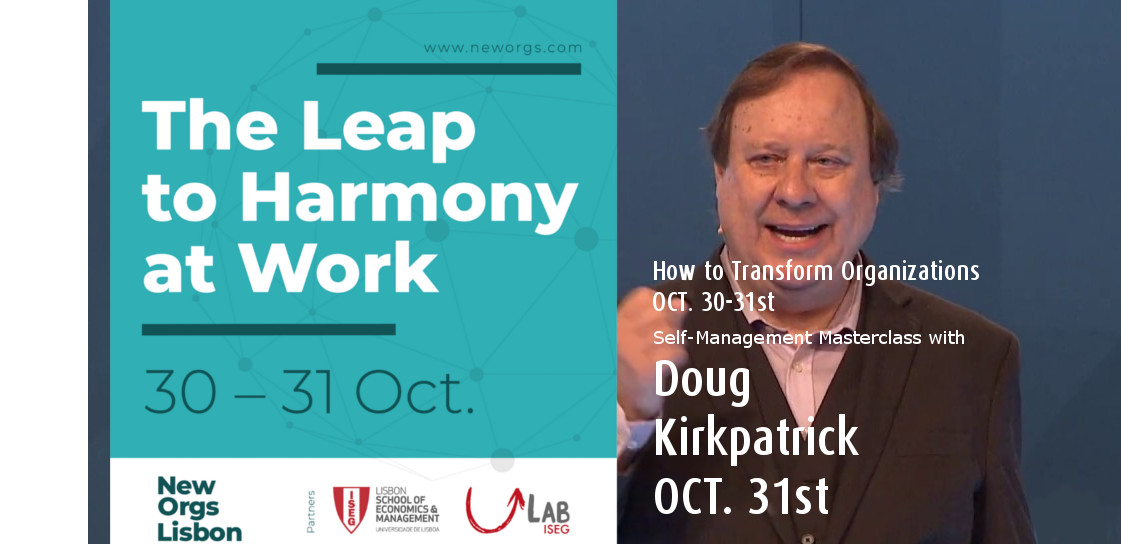 ULab ISEG in association with NewOrgs invites you to join a major event on the 30-31st October on How to Transform Organizations. This is a two-day event about transformation of the work place, self-management and Sociocracy.
On the first day, you will have the chance to meet leaders of pioneering organizations and to join the workshops where experts in facilitating and coaching organizational change will help you to experiment their tools on how to transform your workplace.
On the second day, you will meet Doug Kirkpatrick Co-founder of the Self-Management Institute from the Morning Star, renowned TEDx speaker and expert in shaping the organizations of the future. Doug will facilitate a full-day event on Self-Management. He will cover the principles, practices and foundations of self-management. He will also share approaches to promote trust, commitment and effective communication in an organization with no bosses. He will show you how to recognize and describe the culture of your organization in meaningful language and how to resolve conflict in organizations with no bosses. You will become champions of self-management for yourselves, your teams and your organization.
Please register in: https://www.neworgs.com/
The whole ULabISEG community can use the code ISEGDAY1 for obtaining a discount in day 1 (payment for Day 1 is reduced to 30 Euros)
More information on ULabISEG:
https://csg.rc.iseg.ulisboa.pt/ulabiseg/
https://www.facebook.com/pg/ULabISEG/about/?ref=page_internal