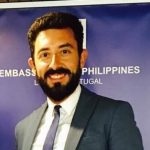 A passionate researcher and practitioner with 15 years of broad experience in development finance, development economics, international trade and international development. Currently Alternate Executive Director at the Board of Directors of the Asian Infrastructure Investment Bank and senior advisor at the Finance Ministry of Portugal. Previous professional experience in the Asian Development Bank; Investment Committee Facility of the European Investment Bank; World Bank; European Commission; Council of the European Union; the Common Fund for Commodities; Portuguese and Cape-Verdean Ministries of Foreign Affairs; and the Portuguese Agency for Public Debt, as well as strategic consultancy for several national Governments in Africa, Asia and Europe.
PhD in Economics in ISEG-Lisbon School of Economics and Management of the University of Lisbon. Level II Chartered Financial Analyst® candidate. Executive course in mastering negotiation at the John F. Kennedy School of Government of Harvard University.
Researcher and lecturer associated with several universities in Asia and Europe. Author of several books and book chapters in development finance, international trade, and foreign direct investment. Co-author of several scientific articles published in the following academic journals: The World Economy, Applied Econometrics and International Development, Baltic Journal of European Studies, Portuguese Economic Journal and Portuguese Review of Regional Studies. Member of the Editorial Board of Journal of Political Science and International Relations and of the Journal of Asian Research.
https://www.cienciavitae.pt/portal/E111-8951-6F23
enriquegalan@cesa.iseg.ulisboa.pt