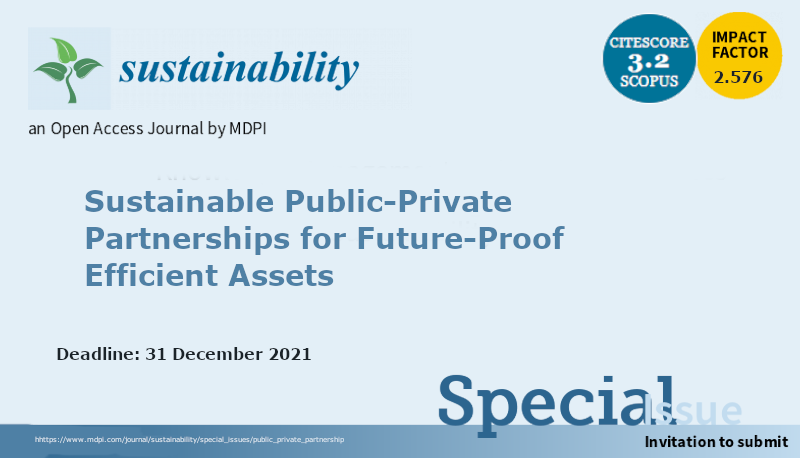 Os editores Joaquim Miranda Sarmento e Carlos Oliveira Cruz convidam para a submissão de propostas ao número especial "Sustainable Public-Private Partnerships for Future-Proof Efficient Assets", da Revista Sustainability, com prazo até 31 de dezembro de 2021.
Sustainability é uma revista de escopo internacional, interdisciplinar, académica, revista por pares e de acesso aberto sobre sustentabilidade ambiental, cultural, económica e social, com factor de impacto 2.592, indexada nas plataformas Science Citation Index Expanded, Social Sciences Citation Index (Web of Science) e Scopus.
Apresentação/presentation:
Public-Private Partnerships(PPPs) have been adopted worldwide as a procurement model able to leverage private capital and private expertise, to deliver and manage public infrastructure and public services. The focus on PPPs has been primarily financial, given the numerous financial and fiscal benefits provided by the model (although these potential benefits have turned negatively in some countries). Therefore, the evaluation of such projects has been primarily done in terms of their financial impact, comparing the (potential) gains with the alternative public management model. The results have been mixed across different sectors and distinct countries.
Traditional PPP models now have over 20–30 years' experience, and a growing number of researchers has been questioning the absence of social, environmental, and larger economic KPIs able to provide a comprehensive evaluation of PPPs. Even from a strictly financial point of view, the lack of a life cycle perspective over expenditure, has led, in many countries (e.g., Greece, Portugal, Italy) to unsustainable financial burdens. Simultaneously, the challenge of climate change will require increased resilience of existing and new infrastructure, requiring a new perspective on how do we evaluate investments.
The debate and literature on PPP have grown significantly in the last decade. This Special Issue intends to bring sustainability to the centre of debate on PPPs, providing a set of papers that can pave the way towards a more holistic evaluation, development, and implementation of PPPs. The following areas are most welcome (not exclusive):
Sustainability assessment in PPPs;
Monitoring sustainability in PPP projects;
Financial sustainability of PPPs;
PPPs for environmental projects;
PPPs and resilient projects.
---
Special Issue Editors

Prof. Dr. Carlos Oliveira Cruz
Department of Civil Engineering and Architecture (DECivil), University of Lisbon, Lisbon, Portugal, Instituto Superior Técnico, Universidade de Lisboa, Lisbon, Portugal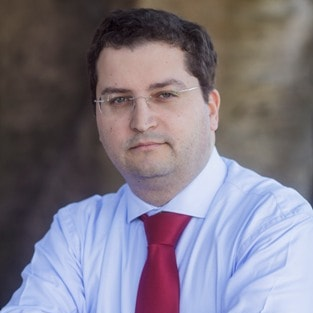 Prof. Dr. Joaquim Miranda Sarmento
ISEG – Lisbon School of Economics and Management, Universidade de Lisboa, P-1200078 Lisbon, Portugal