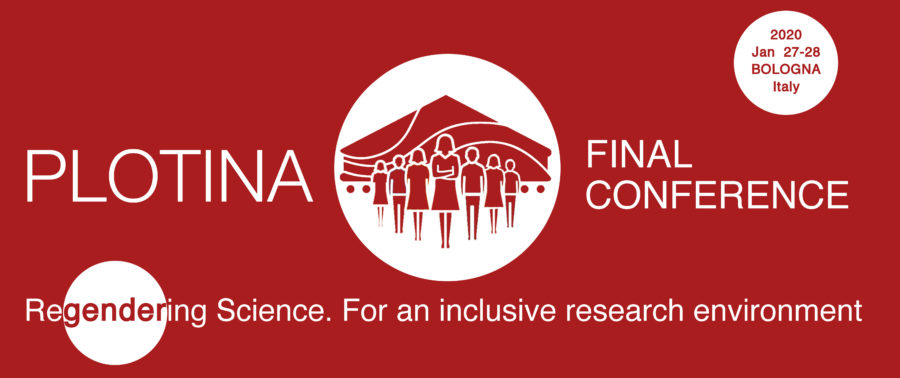 PLOTINA is inviting for the two-day International Conference "ReGendering Science. For an inclusive research environment" that will be hosted by the University of Bologna, Italy, on the 27th and 28th of January 2020.
The conference is the final event of the H2020 Project "PLOTINA. Promoting gender balance and inclusion in research, innovation and training". It will be featuring parallel sessions aiming to contribute to the current debate on gender equality in research and in Research Performing Organizations (RPOs) by providing scholars and academics the possibility to share experiences, case-studies and best practices, as well as to receive feedback on their work. It will also be presented the project outcomes.
There are expected contributions (abstracts and posters) addressing the following topics:
STRUCTURAL AND CULTURAL CHANGE: GENDER EQUALITY PLANS AND EFFORTS
THE INCLUSION OF THE SEX/GENDER VARIABLES IN RESEARCH
THE INCLUSION OF THE SEX/GENDER VARIABLES AND OF GENDER EQUALITY ISSUES IN TEACHING CURRICULA
MEASURING GENDER EQUALITY IN ORGANISATIONS: INDICATORS AND MONITORING TOOLS
It is appreciated and welcome contributions enhancing an interdisciplinary approach.
Important information:
All contributions must be in English
8th of December 2019: abstract submission for oral presentation (maximum 1000 words). Please, use the template available here.
8th of December 2019: Poster presentation submission. Please, use the template available here. Printed poster features: A1 size (594 mm width x 841 mm height), portrait format, full colour.
20thof December 2019: notification of acceptance (oral presentation or poster).
Find further information and submissions here